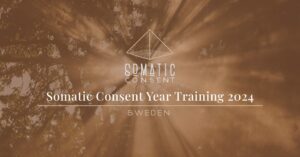 Are you ready to embark on a transformative journey of personal and professional growth? The Somatic Consent Year Training 2024 offers an advanced certification program for individuals seeking to become certified consent-informed facilitators and practitioners. This comprehensive training combines theory, bodywork, and neuroscience to provide a deep understanding of Somatic Consent and its applications in personal and professional settings. Join us on this extraordinary journey of self-discovery, connection, and empowerment.
Participants who have experienced the power of Somatic Consent firsthand share how this training has positively impacted their lives, relationships, and professional practices. Their stories highlight the liberation, empowerment, and transformation that come from embracing the principles of Somatic Consent.
The structure and content of the year-long certification training. It consists of three in-person modules and a series of ten online sessions. Each module explores different aspects of emotional and erotic fluency, theory of Somatic Consent, embodying Somatic Consent, and the skills required for practitioners and facilitators. Participants will gain transformative communication skills, deepen their personal practice of touch, pleasure, and consent, and learn how to apply the Somatic Consent Engagement System professionally.
Successful completion of the training leads to certification as an Empowerment Practitioner, ConsentLab Facilitator, Foundations of Enhanced Pleasure Facilitator, and 4 Pillars of Relating Facilitator. Certified practitioners and facilitators receive recognition within the Somatic Consent community and are listed on the official website. They gain the ability to offer Somatic Consent sessions, workshops, and teachings, enhancing their existing professional offerings.
The training consists of in-person modules, online sessions, self-study courses, and various practice exercises. Participants will engage in group sessions, individual coaching calls, touch meditations, self-organized 3 Minute Game play, and buddy calls with peers. The training provides a strong container facilitated by Matthias Schwenteck, the founder of Somatic Consent, and a dedicated team of experts.
Applying for the training involves a pre-registration deposit and a call with Matthias Schwenteck to explore if the program is the right fit. The training fee includes all teaching materials, food, and accommodation during the modules. Travel costs are not included. Early registration discounts are available for a limited time.
If you are a facilitator, educator, practitioner, bodyworker, therapist, or an individual passionate about personal transformation and empowering others, the Somatic Consent Year Training is designed for you. This unique program combines theory, embodiment, and practical skills to create deep connections, enhance communication, and promote personal and professional growth. Apply now and embark on a journey that will transform your life and the lives of those you touch.
Get more information about the next upcomming Yeart-Training